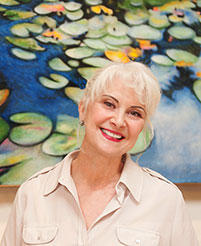 Current original images are shown on the website. Custom sized prints of most images are available by special order.

View Juliet's current resume
My formal training was in the textile arts. This meant a multi-disciplined approach to the arts. Photography, drawing, printing, dying, sculpting, and weaving were some of the disciplines necessary for textile study and creative exploration.
After 25 years, I now work primarily on "frescoed canvas" I craft in my studio. I call this "frescoed canvas" because it is a direct descendant of the ancient frescoes of the renaissance masters. I make, cure, and dry the canvas, then cut and mount it on board. The power of metaphysical plaster or (clay) and its ability to enhance raw pigments (secco), as well as a variety of other color techniques gives the paintings a unique presence.
It is the artist's job to turn over old ground in new ways. In the process I meet the intuitive, the meditative, and the archetypal. The process is soulful. Metaphor, and the revisiting of language and beauty create a story, a way of dwelling on the Earth. Satisfying work for me creates this narrative, a redress of an imbalance in linear perspective. Perhaps all my work is one large narrative about transformation.
Juliet Wood, 2006

"Wood's work is unapologetically about art as a means of spiritual journeying. Her pieces are meant to depict 'inner journeys of evolving consciousness.' She draws on a range of mythic traditions, referencing them in title or subject, and using those resonances to direct the viewer's contemplation of the piece."

"Wood calls her pieces 'constructs,' which is an apt word to describe them. She works in a range of media, and her pieces may be sculpted, sewn, painted, printed or collaged. Her work, particularly her paintings, often has a consciously handmade quality, as if to make a point of the manual birth of her work. Her pieces are all beautifully crafted objects."

Alicia Miller
Artweek, February 1998